Welcome to the new, improved Zachariah Dutton Genealogy Web.
I've had it in my head for a long time to rebuild and polish up the old website, but until I graduated with my latest degree in December 2016, I didn't have the time. Now, I'm transported the site to WordPress, where it is much shinier and should be much easier to keep maintained.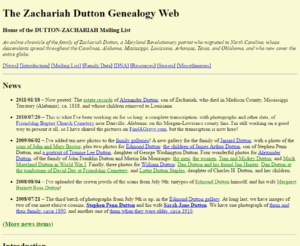 I've retained most of the useful content, including some that is old and dated, for the sake of nostalgia. I did start this when I was a teenager, and that's kind of neat. A few pages whose content was too dated, too problematic, or too embarrassing, I will let fade into Internet obscurity. If anybody should be interested in the old website, it exists forever in the memory of the Internet Archive.
I hope to add a lot more, to share a lot more, and to meet a lot more people.