In the course of writing another post about the children of children of Zachariah Dutton Sr., I happened upon some stunning facts I had not noticed before.
Zachariah Dutton Jr. is one of the most elusive figures in the genealogy of this family. We perhaps would not know about him at all if not for his naming in Zachariah Sr.'s will*. For years, the only other record I could find of who appeared to be Zachariah Jr. was an enumeration in the 1810 census of Brunswick County, North Carolina: Z. Dutton. In that census, he appeared to have a young wife and one son. There was apparently no other trace of him after that: no more censuses, no indications that he had any surviving descendants.
* Note that the suffixes "Sr." and "Jr." were not used in historical sources and I am only applying them to distinguish the two men.
Over the years, a few more facts have emerged. We do know that this man was named Zachariah Dutton and not some other "Z.". He apparently went to Brunswick County early, and appears on a 24 July 1810 list of letters remaining in the post office in the Wilmington (N.C.) Gazette. Wilmington is in New Hanover County, adjacent to Brunswick County. Zachariah appeared in court minutes in Brunswick County in October 1813. He served briefly in the North Carolina Militia during the War of 1812, for a matter of a few months in 1814. To my surprise, I learned that apparently Zachariah's brother William, my own ancestor, was in Brunswick County with him and served alongside him. We, the descendants of William, had never heard of this.
William eventually went on to Anson County, North Carolina, by 1820, where we suppose he settled near his youngest brother Samuel, before eventually going to Alabama in the 1830s. But Zachariah never appears in a census again, at least not that I have ever identified. What became of him? Did he die a young death sometime in the decade of the 1810s? If so, what became of his wife and child? The great temptation was to presume that the line simply died out. In any case, with no records pointing to it, it seemed to be lost to us forever.
Enter DNA
Until DNA. After our initial entrance into DNA research, I was not able to pay as much attention to it as I would have liked, so I depended on my Hogan cousins, the administrators of the Hogan Family Finder Project at FTDNA, to keep me updated. I was astounded one day when they contacted me with the news of a DNA match to a cousin, Anthony Di Dio, who appeared to be the descendant of Zachariah Dutton Jr., and with a record to back up the connection! Apparently, Zachariah had a daughter, Matilda, who married Elijah Bass, who claimed to be a descendant of the Eastern Band of Cherokee Indians. I say "claimed" because the application made by their son, Elijah Bass Jr., was rejected. But it is this application that names Matilda Dutton as the wife of Elijah Bass Sr., and names Zachariah Dutton and Mary Dutton as the parents of Matilda.†
† It occurs to me as I write this that the identification of Matilda as the daughter of Zachariah Dutton Jr. isn't completely bulletproof. Zachariah Dutton Sr. also had a daughter named Matilda. Could it be that this is the older Matilda, and this record actually names the wife of Zachariah Sr.? No, I don't think so. This Matilda was born, according to the census, about 1807 in North Carolina. Zachariah Dutton Sr.'s first wife died ca. 1798, and all indications are that he had no children by his second wife Judith Parrish, per a prenuptial agreement separating his estate from that of his wife's late husband and putting their estates aside for their respective children.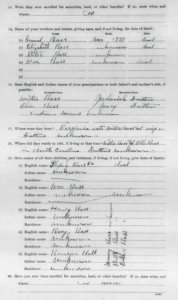 The paper trail was literally paper-thin, bound to a single reference in a single document. The document states that Matilda Dutton was born in North Carolina, but makes no definite connection to Zachariah Dutton Jr. in Brunswick County, Granville County, or anywhere else. (It is worth noting that the Bass family was from Granville County.) Zachariah Jr. in 1810 listed a son, not a daughter. Despite this document, other descendants of Elijah Bass and Matilda Dutton claimed Matilda was born in Pennsylvania, and made no connection to the family of our Zachariah Dutton. Until DNA, there was little to firmly attach even this document to — but the DNA evidence is unmistakable. Anthony Di Dio and at least two other tested Bass cousins each match a half-dozen other descendants of Zachariah Dutton Sr.

Elijah Bass and Matilda Dutton moved to Lawrence County, Ohio, in the 1830s. They appear there in the 1850 census, stating that they were both born in North Carolina, as were all their children. This latter fact, that all the children were born in North Carolina, is unlikely: Elijah likewise appears in the census in Lawrence County, Ohio, in 1840. They were apparently there by 1835, where a Lawrence County marriage record dated 20 March 1835 shows the marriage of Elijah Bass and Matilda Dutton. The 1850 census shows their oldest son, Elijah Jr., born ca. 1834 in North Carolina; he reports in other censuses too (cf. 1870) and in his Cherokee application that he was born in North Carolina.‡ So I strongly suspect that Elijah and Matilda were married in fact in North Carolina, but only recorded it legally after their move.
‡ Elijah Jr. gives the birthdate 15 October 1835 in the Cherokee application. That's possible, but not consonant with his recorded age of 16 in 1850. It would place his birthdate after the recorded birthdate of his parents, simplifying that problem, but would mean they traveled back and forth between Ohio and North Carolina in the span of a few months. Again, it's possible, and probably not as far a distance as my Southern brain tends to make it: Lawrence County is in extreme southern Ohio (and below the Mason-Dixon Line!).
Elijah Bass Sr. and the rest of the family eventually ended up in Vernon County, Wisconsin. It is unclear to me when and where Matilda (Dutton) Bass died. I have been unable to locate her in any later censuses. If anybody else can, I'd appreciate the reference. It was a narrow shave: these people very nearly slipped through the historical cracks and were disconnected from their ancestral family for good.
More Mystery
Zachariah Dutton Jr. still bothers me intensely. I still have so many questions. Did he really die in Brunswick County ca. 1815-20? What became of his widow and who was she? Did he have any other sons or daughters? It bothers me that a son is listed for him in the 1810 census and not a daughter, as it should have been if Matilda was born ca. 1807 as indicated in the 1850 census. Is the 1810 census in error, or was her recollection of her age? Elijah Bass was born ca. 1810. If Matilda was born later than 1807, perhaps ca. 1810, then this would at least explain that.
Wondering these things, I decided to go back and check the 1810 census again. What I found made my jaw drop. I checked and re-checked the record.
Z. Dutton

1 white male under 10
2 white males aged 26-44
1 white female aged 26-44
38 slaves (!!!???)
Sure enough, Zachariah Dutton Jr. owned 38 slaves. That he was a slaveholder was not a terrible shock; his father Zachariah Sr. appears to have owned a few slaves throughout his life, from the earliest records of him in Maryland to his death and estate in North Carolina. But 38 slaves? This is an astounding number, more than all the other descendants of Zachariah Sr. everywhere ever owned combined. The Duttons, by and large, appear to have been yeoman farmers, owning their own land but generally, after Zachariah Sr., few if any slaves. But here is a record, if true, that challenges that entire notion. Is it true? Could it be in error? It is possible, but the record says what it says.
38 slaves would have been valued at something around $15,000 in 1810; this is not to mention the value of the land and crop one surely would have owned to need to employ that many laborers. It would place him in a class with the wealthiest men in the South: historians generally draw the boundary between a farmer and a planter at ownership of 20 slaves. It gives a strong indication to me of what Zachariah — and I suspect my own William, who was probably the other white adult male with Zachariah in 1810 — were up to. Brunswick County was and is a leader in rice production. Rice production, involving extensive systems of dikes and irrigation, was an especially labor-intensive and messy business, lucrative but risky.
Did Zachariah own this farm and all these slaves? Or could he have been an overseer or manager on someone else's plantation? The 1810 census does not indicate. If he did own a rice plantation, it raises questions of how he came by the resources to do this, and more important, why there is so little record of him surviving. Surely someone with this much to lose would have left a will or some other estate record, but nothing like this has ever been found.
Perplexed, I wondered if there had been some record loss. And then I realized what must have happened. The courthouse of Brunswick County, North Carolina, was burned by federal troops in 1865, leading to a loss of some, but apparently not all records. It could be that records still survive to be found, and that no one has found them yet. We are probably lucky to have any record of him at all. Zachariah Dutton Jr. remains a mystery, one I will continue to chip away at as I am able.