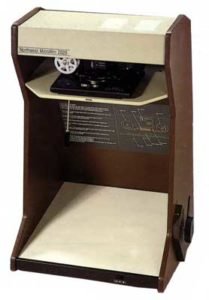 I count myself blessed in many ways for having gotten into genealogy at such an early age. One thing I consider a blessing that others might not expect is my exposure to research methods now less common in this age of online records: the thrill of road trips to investigate cemeteries, not knowing what I would find; days spent in dusty courthouse vaults hunting records; and perhaps the most nostalgic and most antiquated, hours spent hand-cranking microfilm readers in libraries to experience the census. In this day and age, every name in the census is indexed online, and a genealogist can go straight "to" the person they're looking for — though many names are misread or mistranscribed, leading to people who are "lost" in the census. (I am pleased to see Ancestry.com and other services re-create the "filmstrip" to nearly approximate this experience.) In those early days, especially for later censuses like 1900, I had no access to an index, and instead started at the beginning of a county and scrolled through every page reading the names until I found someone of interest — often not even knowing who I was looking for, but in the case of the Duttons, seeing who I might find. It gave the experience of walking down roads and through neighborhoods, "meeting" these people and their communities as I went.
That was my experience the day at the Decatur library I investigated the 1900 census of neighboring Lawrence County, Alabama. By that time I'd been researching the Dutton family for probably a year or more. I felt, with a little pride, that I "knew" the Duttons and could identify families as I found them. I remember well the confusion I felt, and the intrigue, when I encountered Callis Dutton. I think I had first seen his name in a printed listing of Moulton City Cemetery, and didn't readily know who he was or who he connected to. That day in June 1900, I met him as a child, and met his mother.
Lee Dutton
Lee Dutton was a single mother of two sons, unwed, age 32 (born June 1867), living as a housekeeper in the home of Mary Simmons in Moulton. She had two sons, according to this census, Callus L. born July 1895 and James L. born March 1900. I suspect the middle initials here are the result of a transcription mistake: later records show the full names of these sons to be Reeder Callis Dutton and James Riley Dutton. The census states that Callis was born in Mississippi and Riley in Alabama; the birthplace of the fathers of both is unknown. Lee states that her own father was born in North Carolina and her mother in Alabama.

Who was Lee Dutton? Why was she living apart from any other Duttons? Why was her son born in Mississippi? I envisioned a pregnant daughter running away in shame to have her child and later returning. I did not know who she was, did not know for certain that she even belonged to my Duttons (though, in the early days, I tended to assume that), but still, I felt a kinship with her.
A Speculative Connection
The fact that Lee said her father was born in North Carolina stood out like a beacon to me. Our Dutton family was, of course, from North Carolina, but more important than that, of the Duttons who came to Alabama from North Carolina, every one that I knew of arrived by about 1832. The vast majority of Dutton men of the Zachariah Dutton family living in Alabama in 1867 would have been born in Alabama: only the older men of the third generation like Thomas Dutton and William Zachariah Dutton, whose children were well known, were born in North Carolina. And there was one other, an outlier, to whom my mind soon went.
Alexander F. Dutton was a son of Samuel Sneed Dutton, the Dutton brother who remained in Anson County, North Carolina, when the rest went to Alabama. Alexander was born in ca. 1826 in North Carolina. Yet for some reason, he appeared in Alabama in the 1860s and joined the communities of his Alabama cousins. He appeared on the 1870 census of Morgan County, Alabama, living in Danville nearby other Duttons, and it took a bit of early detective work to identify him also.
In 1870, Alexander and his wife Dortha had three young children: Christopher, born ca. 1861; Frances born ca. 1866; and Lean (sic), a daughter, born ca. 1868. "Lean?" That was how I had the name entered into my database for several years, with a question mark. Later, looking around elsewhere in Morgan County on the same census, I found the name "Lean" referring to a girl at least one other time, in the hand of the same census enumerator (our kinsman David Day) — when the person referred to was otherwise identifiable as being named "Lee Ann."
So I was able to conclude that Alexander F. Dutton, born ca. 1826 in North Carolina, had a daughter named Lee Ann Dutton, born ca. 1868. I soon identified Lee Dutton, the mother of Callis Dutton, born June 1867, whose father was born in North Carolina, with Lee Ann Dutton, daughter of Alexander F. Dutton. I was not sure — I had little proof besides the name, the similar dates, and the North Carolina connection — but it was the best I had for nearly twenty years.
There is a lot more to tell about Alexander F. Dutton and his family. He apparently disappears and I can no longer find him on the census after 1870. Tragedy befell him in 1891 — a sensational tale I will save for another day — and his family was scattered. In truth, Lee Dutton was probably living on her own because she had no one else, making her situation all the more desperate and vulnerable. In addition to Lee Dutton in Lawrence County, I find several other unidentified Dutton young people born of a North Carolina father living in various households in Cullman County, Alabama, in 1900. Through years of picking away, one of the most mysterious characters of Zachariah Dutton's family tree has become one of the most compelling. I look forward to writing more about him.
Callis Dutton and Riley Dutton
Lee Dutton apparently never appears on another census after 1900. She died when her sons were young men and is buried near Moulton. In 1910, Callis and Riley Dutton are shown living as boarders in the home of John H. Brewer in Moulton.

By 1920, both sons were living in Chattanooga, Hamilton County, Tennessee, working as harness makers for the Southern Saddlery Company in the burgeoning southern city.
Callis soon returned to Moulton, where he married Minnie Helen Brewington on 28 December 1921. Riley remained in Chattanooga, where he married Gussie Mae Waller on 2 March 1921. Callis lived in Moulton for the rest of his life, and died on 3 March 1966. Riley eventually moved to Phoenix, Arizona, about 1942, and died there on 6 December 1959.
Callis Dutton and Riley Dutton never knew anything about their Dutton family. Though they grew up around other Duttons in Lawrence County, Alabama, they never knew how they connected to them. They raised their own families and went to their graves not ever knowing.
Coming Home
In March of last year, Kelli Taylor Barrett of Moulton contacted me. I had published on my website that I thought Lee Ann Dutton, daughter of Alex F. Dutton, was the same Lee Dutton who was the mother of Callis Dutton. Kelli told me that Callis was her grandfather and that she thought this was her connection.
I had been hoping to get in contact with Callis's descendants for years, but had never reached out. I wondered if they knew anything about his ancestry, anything that might help connect him, with any more certainty than this bald speculation I had been making for so long. Kelli said that they did not; that he never knew himself. He did know rumors about his father: Kelli said that Lee Dutton had reportedly been a housemaid for the Brewer family and that one of the Brewers was the father of both of her sons.
I encouraged Kelli to do a genealogical DNA test to see if we could confirm Callis's connection to the Zachariah Dutton family. It wasn't until this past month that I followed up with her. She shared her DNA results with me and I spent some time poring over them.
It wasn't long at all until I was able to confirm: Callis Dutton does belong to the Zachariah Dutton family. Kelli not only matched several confirmed descendants of Zachariah Dutton in Alabama and North Carolina, but she also matched Mike Dutton of the Maryland Duttons, only the fourth of our tests to do so, further bolstering that connection. Her closest match was to the daughter of Riley Dutton.
This confirmed the connection to Zachariah, but was it enough to confirm my speculation, connecting Lee Dutton to Alexander F. Dutton? How could we confirm this? I dug a little deeper into the results. I found, to my delight, that Kelli had close matches to a descendant of John Wakefield (1755-1845) and his wife Dorothy. Alexander F. Dutton's wife, I had reasoned out, was Dorothy Ann Wakefield, a granddaughter of John Wakefield (more on that when I write about them). This match seems to confirm both Lee's connection to Alexander F. and my identification of her mother with this Wakefield family.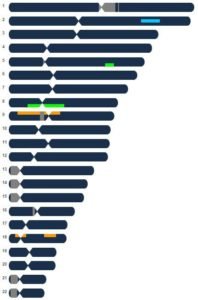 The last question I asked was about Callis's father, rumored to be a Brewer. And sure enough, the DNA results seem to confirm this. One of Kelli's closest matches was to a descendant of John Henry Brewer (1855-1933). This is, I did not even realize until I was writing this post, the man with whom Callis and Riley were listed as "boarders" in 1910 following the death of their mother. Could it be that John Henry Brewer was their father, and was now taking responsibility for his sons? The DNA cannot confirm that with certainty, but it does give strong evidence that their father was in fact some Brewer.
From having little but an uncertain connection and a speculative identification of Callis's mother, just a few minutes with DNA allowed me to break through these walls and state with a fair degree of certainty: Callis and Riley Dutton were the sons of Lee Ann Dutton, the daughter of Alexander F. Dutton and Dorothy Ann Wakefield. The experience of early and simple genealogical tools helped begin this journey of speculation for me, but the perspective and tools of a modern genealogist, able to look out across all the records that would not have been readily available in one place several generations ago, and armed with such technological wonders as the Internet and genealogical DNA testing, helped power through to this conclusion.