May 29, 2007
Cousins,
I had the wonderful experience a few weeks ago of visiting with Bill and Jane Maxwell of Ridgecrest, California, who traveled through this area on their journey across America by motor home. On Tuesday, May 29, I met them and took them on a tour of Dutton Country, and it was as much a joy for me as it was for them.
Jane is the daughter of Stephen Petway Dutton and Agnes Leona Stanley; Stephen Petway Dutton was the youngest son of Alexander Dutton and Martha Jane Hampton. She is the youngest and the last living grandchild of Alexander Dutton. Stephen Petway Dutton was born 25 May 1886 in Hood County, Texas. He moved to Oklahoma, where Jane was born, and was part of the Dust Bowl migration in the 1930s to California. It was such a pleasure to have contact with Jane and Bill and to hear their stories.
I met Jane and Bill early Tuesday morning here in Decatur, and we made our way out Danville Road to the south. Our first stop was Friendship Baptist Church south of Danville, on the county line between Morgan and Lawrence counties, where I showed Jane the graves of Edmond Dutton and Margaret Barnett Ross, her father's grandparents; of a number of his aunts and uncles; and of my immediate family.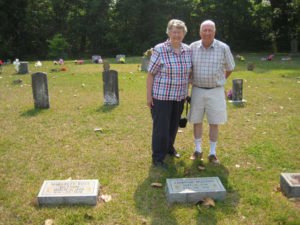 Next I drove them down the other side of the mountain, into what was Edmond Dutton's land. We drove over Dutton Creek, named for him, which I'm sure I'd driven over hundreds of times before but had never taken notice of (it honestly wasn't much to look at). We continued south down Danville Road, past my ancestor William Dutton's homeplace and his home, built in about 1832 and still standing. We proceeded into Basham's Gap, the pass into the mountains for which our Duttons' community was once named.
At Cave Springs Cemetery, I pointed out the grave of Louinda Dutton Hogan, another great-aunt, and with a deep breath, departed off the highway onto Leola Road and into Bankhead National Forest.
Leola Road is gravel, but by the standards of most other forest roads, is quite good. It was slow going for several miles, but at last we reached Center Church, where I showed Jane the graves of a couple of siblings of Martha Jane Hampton. She was surprised that anyone lives out that far into the forest, let alone is buried there, but Center Church still has an active cemetery. However, we had seen nothing yet.
My map wasn't as good as I'd thought, and I took a wrong turn onto a very bad road ridden with holes, and even in the North Alabama drought, mud. When we reached a dead end, I was discouraged and worried that we'd get stuck out there, and almost abandoned our search for the next cemetery, but Jane and Bill reminded me that they most likely wouldn't be back, and I resolved to press on, to make their trip worth it.
The roads from then on were delightfully well kept. Even the road to the cemetery, not even marked on the official highway map, was in good shape, and we were surprised to find people living and farming even out there. At last we arrived at Arbor (Hampton-Doss) Cemetery. I'd never even been there, and had always dreamed of going, but was afraid of taking off that deep into the woods alone. We found the graves of Ephraim S. Hampton and Lemenda K. Hampton, the parents of Martha Jane Hampton — Stephen Petway Dutton's other set of grandparents. I mused that Sarah Elizabeth Hampton, also their daughter and Alexander Dutton's first wife, is likely buried there also in an unmarked grave.
This was all I'd planned for us to visit. But I was touched by how moved Jane seemed to be at visiting the graves of her relatives — it had not even occurred to me what close relatives they were — and on a whim, I took off in the opposite direction, towards Moulton. At Montgomery Cemetery at Wren, I showed her the grave of William Richard Dutton, her father's oldest brother, of whom she never even knew. His children, I realized, were her first cousins. The enormity of this moved even me.
Finally, we drove back to Decatur and had lunch at Big Bob Gibson's, Decatur's famous barbecue restaurant. Bill bought us all pie. I took them back to their mobile home, and sat with them for some time talking. I was able to scan a good many old photographs (which I intend to soon post). Before they left the next day, I came and chatted with them for a good while longer. It had a wonderful time and I will never forget it.
So, all the rest of you cousins, you ought to come visit me! I would love to take you all on a similar adventure! Woody and Betty Woodworth visited some years ago, and Dale Brown; the rest of you should come on! I am always at the ready for a tour of my favorite places and a long family chat.
Best regards,
Cousin Joseph